Same Day Music is an
authorized Tama dealer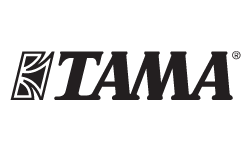 Tama's Sound Lab Project (S.L.P.) snare drums were designed to introduce drummers to a variety exciting sounds -- at an affordable price. Each snare possesses a distinct personality that's well suited to a particular genre. S.L.P. is an ideal option for discerning drummers looking to add a fresh voice to their arsenal at a lower price point that allows for sonic experimentation.
The 5.5 x 14" Vintage Hammered Steel addition to the S.L.P. line capitalizes on Tama's decades of experience as builders of great steel snares. The hammering process on the 1.2mm steel shell adds a dark tonal complexity, with a drier, more articulate tone. While some steel drums can sound excessively "ringy", the hammered shell and 2.3mm Sound Arc hoops work together to focus overtones and produce a tone that cuts with articulation, but still produces enough overtones that allow the true nature of this drum to sing.
The 20-strand Super Sensitive Hi-Carbon Steel Snappy Snares deliver the perfect amount of sensitivity and snare response for this drum. In order to provide a more crisp and sensitive sound, Tama redesigned their snappy snare using updated materials, customizing the shape of the plate, and changing the wire coils' winding pattern. As a result, the snares fits more closely to the resonant head, providing greater sensitivity and a consistently crisp sound.
A luxurious satin chrome finish sets this snare apart from other hammered steel snare drums on the market. Silky-smooth tension rods make subtle tuning changes a breeze, letting you dial in just the right amount of tension for perfect tone every time.
The snare drum is the keystone of any drummer's sound. Make your statement with the S.L.P. series from Tama!
Same Day Music is an authorized dealer of
Tama
products.
- Shell: 1.2mm, Steel shell
- Size: 5.5 x 14"
- Finish: Nickel plating with Chrome hardware
- Hoop: Sound Arc Hoop
- Lug: Brass Tube Lug
- Snares: 20 Strand Super Sensitive Hi-Carbon Steel Snappy snares
Same Day Music is an authorized dealer of
Tama
products.
Shipping Weights and Dimensions

5.5x14", with Snare Bag

Shipping Weight: 13 lbs

5.5x14"

Shipping Weight: 12 lbs
Shipping Dimensions: 17 x 17 x 8 in