Same Day Music is an
authorized Remo dealer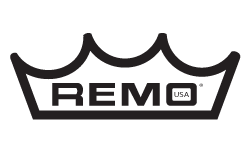 Remo's popular PinStripe heads are made from two plies of Remo clear film and bonded at the collar to dampen both high overtones and overall resonance. The result is a very focused, low pitched sound with moderate attack and response characteristics that is ideal for creating a deeper, fatter, controlled drum sound in a variety of studio and live drumming situations. PinStripe heads are available in classic Clear as well as Coated, for an even more controlled sound and brush surface.
About Remo
As the world's drumhead specialist since 1957, Remo has developed an incredibly wide variety of drumheads to fit every drumming application. The end result of the most advanced technologies in existence, Remo heads have been engineered to meet the diverse needs of drumset players in country, jazz, rock, pop, R&B, hip-hop, Latin, and every other style, while offering exceptional performance capabilities for the specialized needs of players in the marching, concert, and world percussion areas as well. With so many types, weights, and sizes available, Remo enables you to select the perfect head for any drum or playing situation.
Same Day Music is an authorized dealer of
Remo
products.