Same Day Music is an
authorized Radial dealer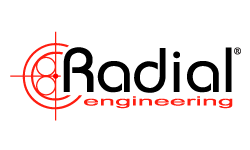 The Radial Pro48 direct box, an active direct box with nine times more headroom than the competition, less distortion and a great price.
Following the trail blazed by the immensely popular Radial J48, the Pro48 is a scaled back version that incorporates the same digitally controlled switching power supply that steps up the rail voltage from the typical 1 volt to an astounding 9 volts!
Today, most instruments such as acoustic guitars and basses are equipped with internal preamps called buffers. These can develop anywhere from 3 volts to 6 volts when turned up and played hard. This excessive output level overloads typical direct boxes as they are unable to handle the signal due to the limitations of phantom powering. Radial developed a work-around in the J48 by using the same trick that power amplifier companies now use to increase the efficiency of their amps. It is called digital switching. Essentially, Radial takes phantom power and converts the high voltage and low current from DC into AC using a special transformer and digital timing chip. They then filter the power and reconvert it to DC to get their 9 volt rails. High rail voltage means more signal handling and less distortion. With demanding customers like Bruce Springsteen and Jerry Douglas using the Radial J48 on their guitars, you can be sure the sound is right.
The Radial Pro48 features a compact yet ultra-solid 14 gauge steel enclosure with a book-end protective sleeve. It is equipped with 1/4 in. input and thru, -15dB pad, ground lift and 48V phantom power indicator LED.
Same Day Music is an authorized dealer of
Radial
products.