Same Day Music is an
authorized Radial dealer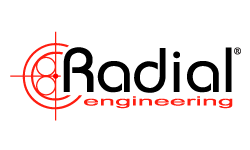 The Radial J48 Stereo is a high-performance active direct box designed for professional touring and studio recording. It features the same award-winning signal path that has made the single channel J48 the most specified active direct box on tour today. And with users as diverse as Paul McCartney, Tommy Emmanuel and Joe Chiccarelli, you can be sure it will meet the most demanding qualifications.
The design begins with a rugged 14-gauge steel construction and a bookend design that protects sensitive switches and connectors from damage. The internal I-beam construction ensures the fragile internal PC board will not torque, which in turn could lead to cold solder joints developing and premature failure. All connectors are made from glass-filled nylon and feature extra-large nickel-silver contacts that will not tarnish over time.
Inside, a unique switching power supply converts the 48 volt phantom to AC, increasing the headroom for improved signal handling and lower distortion. This results in an exceptionally linear frequency response that spans from 10Hz to 40 kHz while being able to handle high output instruments without choking. In addition, a -15dB pad may be engaged for extreme signal handling. This is supplemented with a high-pass filter that gently rolls off low frequencies below 80Hz to clean up mud and excessive resonance. A side-access 180o polarity reverse aids when using the J48 Stereo with dual element pickups to either phase align the sources or eliminate acoustic hot spots that can cause feedback on stage.
A unique aspect of the power supply is the way that the J48 handles buzz and hum caused by ground loops. The traditional solution is to lift the audio ground by disconnecting pin-1 at the XLR output. When this is done, the 48-volt phantom power from the console is shut off, forcing one to introduce a battery into the equation. Unfortunately, batteries are inconsistent, and when they begin to drop power, severely affect the available voltage and resulting headroom. Instead, the J48 employs a DC to DC converter with a high frequency transformer that enables the audio ground to be lifted at the power supply. This does not shut off the phantom power and is invisible to the user.
The Radial J48 Stereo - Twice as good as the world's finest phantom-powered active DI!
Features:
- Ultra low distortion of all types
- Exceptional headroom & dynamic range
- Retains instrument's natural sound
- Powered by 48V phantom
Same Day Music is an authorized dealer of
Radial
products.
- Audio circuit type: Proprietary analog circuit with low-noise op-amp
- Frequency response: 20Hz ~ 20 kHz
- Dynamic range: 109dB
- Noise floor: -99dB below 0dBu
- Equivalent input noise: -103dBu
- Maximum input: +10dBu
- Phase deviation: +10o at 20Hz | 0o at 1 kHz | -1o at 20 kHz
- Total harmonic distortion: 0.002% @ -5dBu
- Inter-modulation distortion: 0.003% @ -3dBu
- Input impedance: 220kOhm - 1/4" input
- Output impedance: 600Ohm - XLR output
- Input connectors: Dual 1/4" in and thru jacks
- Input pad: -15dB
- Polarity: 180o signal polarity reverse switch
- High pass filter (HPF): -3dB @ 80Hz
- Ground lift: Disconnects pin-1 at XLR output
- XLR output: Follows AES standard (pin-2 hot)
- Power: 48V phantom - proprietary digital switching
- Construction: 14 gauge steel chassis and outer shell
- Finish: Durable powder coat
- Size: 3.3 x 5.0 x 2" (84 x 127 x 48mm)
- Weight: 1.55 lb. (720 g)
Same Day Music is an authorized dealer of
Radial
products.
Shipping Weights and Dimensions

Shipping Weight: 2 lbs
Shipping Dimensions: 7 x 4 x 3 in