Same Day Music is an
authorized Pioneer dealer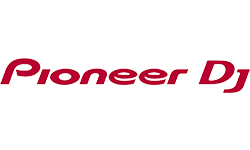 The Pioneer Pro Audio BULIT series is designed for great audio feedback while practicing, producing, and creating music.
Quality audio
For maximum audio performance, increased bass output, and reduced unwanted resonance, each speaker utilizes a highly rigid medium density fiberboard (MDF) for its enclosure and bass reflex ducts. To optimize sound quality and reliability, the woofers are made with aramid fiber cones and soft dome tweeters infused in magnetic fluid.
Groove technology
To improve airflow through the port of the enclosure, the port hole was engineered with grooves to help direct the sound waves smoothly. The technique decreases standing waves from the mouth of the port, resulting in smooth bass and mid-bass output with more impact.
Convex diffuser
Matching the bass output of the speakers, the soft dome tweeters are set in the center of a convex diffuser optimizing output and dispersing the sound energy in both left and right directions for wider imaging. For a cool cosmetic look, the diffuser illuminates in white when the speakers are powered on.
Class AB bi-amp
A highly efficient Class AB amplifier drives the speakers in a bi-amp configuration to power the tweeters and woofers separately.
Inputs
All models feature three types of inputs - XLR, TRS, and RCA - for connection to different devices, such as external sound cards, computers, DJ equipment, and portable devices.
Auto standby
For convenience and power conservation, the speakers include an Auto Standby mode that automatically turns itself off when there is no input signal sensed after 25 minutes, and powers back on when signal input is detected.
Same Day Music is an authorized dealer of
Pioneer
products.
- Type: Bi-amp, 2-way bass reflex, active monitor speakers
- Tweeter: 1-inch Soft Dome
- Woofer: 8-inch Aramid Fiber
- Auto Standby: Yes
- Maximum Sound Pressure: 115 dB
- HF Level Adjust: -2 dB/ -1 dB/ 0 dB/ +1 dB
- Amplifier Output:
- Class A/B Bi-amp: 160 W
- HF: 35 W (20 W)
- LF: 125 W (70 W)
- Impedance: 10k ohms
Same Day Music is an authorized dealer of
Pioneer
products.
Shipping Weights and Dimensions

Single Speaker

Shipping Weight: 30 lbs
Shipping Dimensions: 21 x 16 x 15 in

Pair

Shipping Weight: 60 lbs