Mojotone 59 Clone Humbucker Pickup Set
Web Item #MJTS3PAF728N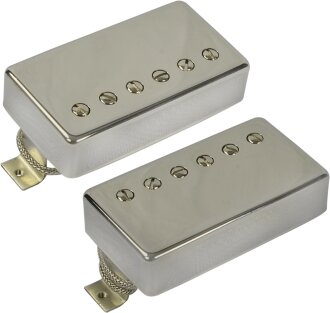 This item cannot be returned once opened due to the possibility that it has been used.
Recommended Accessories for Mojotone 59 Clone Humbucker Pickup Set
Mojotone 59 Clone Humbucker Pickup Set Product Description
Considered to be the Holy Grail of all vintage humbuckers, the Mojotone 59' "Patent Applied For" Clones are for the tone purists who want maximum clarity and articulation of the best P.A.F. examples ever heard from the 50's. These are authentic to every detail using butyrate bobbins, German nickel-silver long leg frames and covers, vintage spec plain enamel wire, cast alnico 4 bar magnets, rock maple spacers, and vintage correct metal alloys.
Unlike any other reproduction P.A.F. of it's class, we built our Mojotone '59 clone to have unparalleled dynamics in the upper frequency range, with exceptional bloom and lots of airy tone. The un-potted coils allow the entire pickup to resonate with the natural wood tone of the guitar. We meticulously wind each coil with our own pattern and offset to represent what we believe to be the best vintage P.A.F. examples out there.
Features:
- (Set of 2) '59 Clone Clone Humbuckers neck and bridge.
- Nickel covers
- Vintage braided leads
- Handmade in the USA
- Neck: 7.3k
- Bridge: 8k
Same Day Music is an authorized dealer of
Mojotone
products.
User Reviews for Mojotone 59 Clone Humbucker Pickup Set