Same Day Music is an
authorized Juice Goose dealer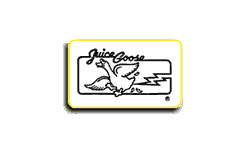 The USA made, Juice Goose Rackpower 200 Power Distribution System is a conditioning and monitoring unit. In 1983, long before anyone else was wise to the problem, Juice Goose introduced voltage regulation and surge protection to the professional AV industry. Today they are a leader in the design and manufacturing of a broad selection of power control and distribution solutions for a wide range of applications.
Power Meter
The two function meter reports in easy to read LED numerals the status of your power supply and consumption. Toggle between volts and amps with a convenient push button on the front of the chassis. Voltage is measured to the nearest 0.10 VAC. Amperage is measured to the nearest 0.10 amperes in a range from 0.20A to 25.0A.
LED Rack Lights
The model features cool-to-touch LED light tubes that are brighter and more reliable than incandescent bulbs. Of course, the lights are dimmable and slide away inside the chassis for convenience when not in use. For additional lighting, connect an inexpensive USB light accessory to one of the USB ports on the chassis.
USB Ports
One USB port is provided on the front and one on the back of the chassis. These five volt DC connections are usable for utility lighting or powering accessories. Connect an inexpensive, flexible USB light fixture for lighting in the front or back of the rack. Both USB ports can also be used to charge accessories including an iPhone or iPad.
AC Power Receptacles
One AC outlet is located on the front. Nine are on the back. The rear outlets are rotated to accommodate wall warts and include extra generous spacing between four of them.
Power Input
RP 200-15A features a twelve foot, fourteen gauge power cord with a NEMA 5-15P plug.
Power Conditioning
The multi stage power conditioning components include a series choke and fast reaction time surge clamps across hot and neutral - guaranteed not to contaminate the ground.
Tour Class (TM) Chassis
This professional grade, ten inch deep enclosure is formed from a single piece of cold rolled steel. Reinforced mounting brackets and a flush mount top complete a package that's been used to rack mount other products weighing over 200 pounds. The extra chassis depth allows easy access to the rear receptacles while mounted in a rack.
Same Day Music is an authorized dealer of
Juice Goose
products.
Specifications
- Chassis: 16 gauge unibody steel with 11 gauge rack mount brackets
- Dimensions: 1.75H x19W x 10D
- Weight: 12 lbs
- Current Overload Protection:breaker/power switch on the front of the chassis
- RP100-15A, RP200-15A: 15 amps with a technical current rating of 12 amps
- Power Input: Twelve foot (12), three conductor power cord
- RP100-15A, RP200-15A: 14/3 SJT with NEMA 5-15P
- Power Output (Rotated to fit AC adapters) (All switched):
- Front: One NEMA 5/15R (15 amp)
- Rear RP100-15A and RP200-15A: Nine NEMA 5/15R (15 amp)
- Input Voltage: 120 VAC @ 60Hz
- Transient Energy Absorption: 460 joules
- Peak Surge Current: 12,000 amps per mode
- Voltage: Nominal 120 VAC scale. Reports to nearest 0.10 volts.
- Amperage: From 0.25 to 25.0 amps. Reports to nearest 0.10 amps.
- Operating Temperature Range: -10C to +40C
- Warranty: Three years
- Normal Mode (L-N) Noise Rejection (dB):
- 150 kHz: 15
- 500 kHz: 24
- 1 MHz: 28
- 10 MHz: 45
- 30 MHz: 45
Same Day Music is an authorized dealer of
Juice Goose
products.
Shipping Weights and Dimensions

Shipping Weight: 14 lbs
Shipping Dimensions: 24 x 16 x 3 in