Evans EMAD Heavyweight Clear Bass Drumhead
Web Item #EVABDEMADHW
More Resources
Evans Warranty:
Evans Warranty
Evans offers a lifetime warranty on their DADK (Magnetic head drum key), DABK (Drill bit Drumkey) & DATK (Torque Drumkey).
If you have additional warranty questions, please call the manufacturer at 877-KAMANMUSIC
This item must be exchanged directly through the manufacturer if it is found to be defective, and can only be returned to us if it is unopened.
Recommended Accessories for Evans EMAD Heavyweight Clear Bass Drum Head
Evans EMAD Heavyweight Clear Bass Drumhead Product Description
Same Day Music is an
authorized Evans dealer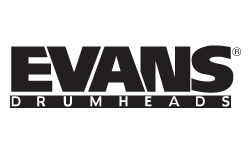 Evans EMAD Heavyweight series features two identical plies of 10mil film, providing maximum durability and a compressed attack while maintaining a wide dynamic range. The EMAD Heavyweight contains two interchangeable damping rings that maximize attack and low end without removing the head or reaching inside the drum. The Externally Mounted Adjustable Damping system allows the player to adjust attack and focus.
If maximum low-frequency response with accentuated attack is your goal, the EMAD Heavyweight will make it happen.
Features:
- Construction: Two 10-mil plies of film with
- EMAD system for adjusting attack
Same Day Music is an authorized dealer of
Evans
products.
User Reviews for Evans EMAD Heavyweight Clear Bass Drumhead