Same Day Music is an
authorized Eminence dealer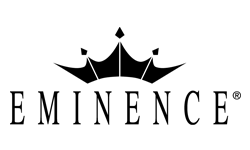 With a cast aluminum frame, 2.5" voice coil, and 300 watts of power-handling, this speaker is the best choice for the serious player! Many bassists have historically chosen 10-inch speakers in their rigs for their distinctive tonal characteristics, but more often because they result a much lighter and smaller cabinet. There is, however, no substitute for a larger format woofer when you are trying to produce bass. The CB15 provides the best of both worlds by punching out low-end that only a 15-inch woofer can provide, but doing it in a smaller enclosure. Use one driver in a 2 cu. foot box or 2 in a 4 cu. foot box. This bass woofer works nice by itself or when used in 2 and 3-way bass rigs.
The World's Favorite Guitar Speakers
Eminence Guitar Legends are specially designed for electric guitar amplifiers. Tuned by skilled ears, these hand-built specials feature a range of materials and ideas from nearly 40 years experience. Models such as the LEGEND B15, 121 and Modeling 12 are state of the art designs which meet the modern-day demand for power handling while other models feature vintage magnet and cone materials to recreate the traditional sounds of lead and jazz guitar.
The most difficult aspect of presenting a guitar speaker to the world is being able to describe its tonal characteristics. Your choice of guitar speakers is at least as important as your choice of pickups or strings. Just as you customize a guitar to suit your sound, so too can you customize -- or "hot rod" -- your combo with Eminence loudspeakers.
Eminence is fortunate to have one of the foremost authorities on guitar and amplifier tone in the music industry as an endorsing artist. Greg Martin, lead guitarist for the Kentucky Headhunters was kind enough to lend his ears and hands in an effort to present to you the most realistic and accurate tonal descriptions for each of the Eminence Guitar Legends. Below are descriptions of the Legend 15-inch speakers.
Greg Martin is a master of home cooked Southern-style Rock, Blues, Country and Rockabilly guitar. Along with his band, The Kentucky HeadHunters, he has helped reshape the face of country music. To date the HeadHunters have released 6 albums, winning countless awards and Grammies. In 1992, Greg filled in for injured Lynyrd Skynyrd guitarist Ed King. The HeadHunters have also collaborated with the great Johnnie Johnson on a stellar rockin' blues CD "That'll Work!" Johnnie was inducted into the Rock'n'Roll Hall of Fame this year by Rolling Stone Keith Richards. Greg will soon release a Gospel Blues CD with former Wet Willie singer Jimmy Hall entitled "The Revelators."
Eminence chose several amps and guitars for this tonal analysis to make sure that you get the most realistic descriptions possible. Each description was derived from using the gear listed below in various combinations: Guitars: 1960 Fender Stratocaster and a re-issue Les Paul with Tom Holmes pickups. Amps: 1965 Fender Vibroverb; Fender "The Twin"; T35 Top Hat Head with 4-6V6 tubes; 1973 Marshall Non-Master Volume Head with 2-EL34 tubes.
Same Day Music is an authorized dealer of
Eminence
products.
- Impedance: 8 ohms
- Power Rating: 300W rms
- Music Program: 600W
- Voice Coil Diameter: 2.5", 63.5mm
- Coil Material: Copper
- Flat/Round Coil Wire: Round
- Coil Former Material: Kapton
- Basket Type: Cast Aluminum
- Cone Surround Material: Cloth
- Dust Cap Material: Paper
- Magnet Weight: 80oz.
- Usable Bandwidth (Fs to -3dB): 40Hz - 2.5kHz
- SPL: 98dB
- Compliance Equivalent Volume (Vas): 268.3 liters, 9.5 cu. ft.
- Peak Diaphragm Displacement Volume (Vd): 408cc
- Mechanical Compliance of Suspension (Cms): 0.26mm/N
- BL Product (BL): 18.74 T-M
- Diaphragm Mass inc. Airload (Mms)
- Equiv. Resistance of Mechanical: 83.6 grams
- Suspension Loss (Rms): 1.8604N*sec/M
- Efficiency Bandwidth Product (EBP): 111
- Voice Coil Overhang (Xmax): 4.8mm
- Surface Area of Cone (Sd): 856.3cm2
- Impedance at Resonance (Zmax): 195 ohms
Mounting Information
- Nominal Basket Diameter: 15.32", 389mm
- Baffle Hole Diameter: 14.0", 355.5mm
- Mounting Holes Diameter: 0.275", 7mm
- Mounting Holes B.C.D.: 14.56", 369.9mm
- Depth: 6.19", 157mm
- Shipping Weight: 20 lbs., 9.1 kg
Thiele-Small Parameters
- Resonant Frequency (fs): 34Hz
- Impedance (Re): 6.03 ohms
- Coil Inductance (Le): 1.51mH
- Electromagnetic Q (Qes): 0.31
- Mechanical Q (Qms): 9.63
- Total Q (Qts): 0.30
Important NoteWatts:
The guaranteed long term power rating throughout the usable frequency range of the speaker.
(Translation: the speaker will operate continuously at any frequency within the speakers specified frequency range when driven at this power. The "Watts" rating is similar to RMS, but is really more indicative of long term thermal capability.)
Music Program:
The speaker will safely and reliably handle the varying frequencies of musical content at this power rating. The "Music Program" rating is more indicative of what you can expect in the real world with the speaker operating within the appropriate enclosure reproducing music or vocal audio program.
Same Day Music is an authorized dealer of
Eminence
products.
Shipping Weights and Dimensions

Shipping Weight: 20 lbs
Shipping Dimensions: 18 x 18 x 8 in